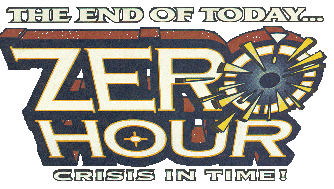 Welcome to the Zero Hour MUX Homepage!

 
This page is intended to give an introduction to the Zero Hour online RP-based MUX as well as giving a basic overview of the characters and setting of the DC Universe in which the games are set. Zero Hour MUX and this web page are not affiliated with or endorsed by the DC Comics Corporation, and uses its copyrighted characters out of enjoyment for the products that DC Comics produces, which we highly encourage the purchase of.

Zero Hour MUX is located at beck.mudservices.com 7777. You can connect through telnet applications, and we encourage new players who are willing to learn.

We are all very excited about the future of Zero Hour, so please join us!

 Guests Welcome!
 
Information about Zero Hour

General MUX information.


Why's Zero Hour so great?
Setting, Timeline, etc.


How do I get a character?
Applications, rules, etc.


Who will I find when I get there?
Character listing and profiles.
 
 
 
 
General DC Information
Unofficial History of DC Comics


Sign My Guestbook

View My Guestbook

<! -- Cool Comics Web Ring -->

<! -- Cool Comics Web Ring code ends -->
 

<! -- DC Comics Web Ring code ends -->


Zero Hour MUX is proud to be a member of the



This web page was last updated on: August 1, 2001.
The webmaster of Zero Hour can be contacted at zerohourmux@hotmail.com. Please contact me with any errors or problems.
ZERO-HOUR is a non-profit unofficial game based on the DC Universe.
Our sole objective is to have fun while promoting the many great  characters DC has available within the pages of their books. Of  course, with any unofficial game, we need disclaimers:
The stories, characters and incidents in this MUX are entirely fictional. All characters in +features and +features/avail and the distinctive likenesses/@descs thereof are trademarks of DC Comics Inc.  The mention, use and/or reference to any characters/likenesses/incidents/images owned by DC Comics is not a challenge to the trademark or copyright concerned.